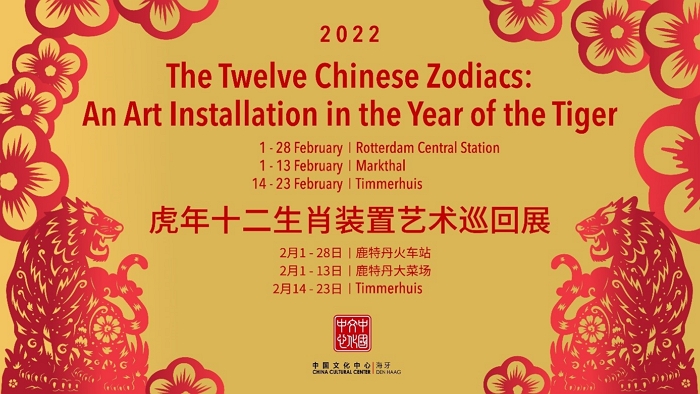 Today, February 1st, is the start of the Chinese New Year. This year we celebrate the year of the Tiger. In Rotterdam, the zodiac exhibition has become a traditional component of the New Year's celebrations. This year, the artwork does not only display the tiger, but the entire zodiac. To top it all off, one of the statues will be painted live on Saturday February 5th. The exposition in the Markthal was opened today by Mr. Huang Hongchang 黄宏昌 of China Cultural Center Den Haag.

As the initiator of this project, China Cultural Center Den Haag asked visual artist Fenmei Hu to create a new concept for the zodiac exhibition. Instead of one animal, this year all Chinese zodiacs will be showcased. All animals are carved out in traditional Chinese style and painted by Studio Maky. This designer duo is known for its cheerful, colorful, and surprising installations, which can be seen in the zodiac project.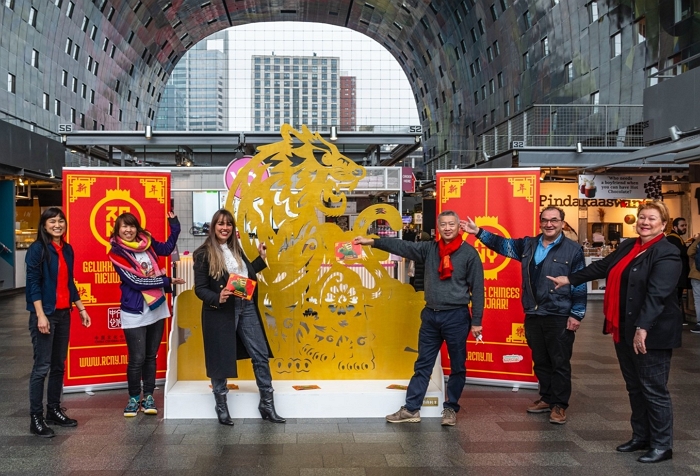 Image: Opening of the exposition with f.l.t.r. Kwannie Tang and Man-Yee Mok (Studio Maky), Michelle Bonnema (Markthal), Mr. Huang (board China Cultural Center Den Haag), Mr. Choy and Mw. Lesquiller (board Stichting China Festivals Rotterdam).

On Saturday February 5th from 12 PM, the final and most important statue of this year, the tiger, will be painted live in the Markthal. Studio Maky will paint one side of the statue in their colorful and modern style. The other side of the statue will be painted by Sofie Xie in traditional Chinese style. Visitors can watch the ladies live at work.
The zodiac exhibition can be visited for free in the Markthal from February 1st - 13th, and in the Timmerhuis from February 14th – 23rd. After that, the statues will move to the China Cultural Center Den Haag and will stay here as part of our permanent collections.
NOTE: During the opening the 1,5 meters distance rule was always followed. The face masks were only taken off for the photo.