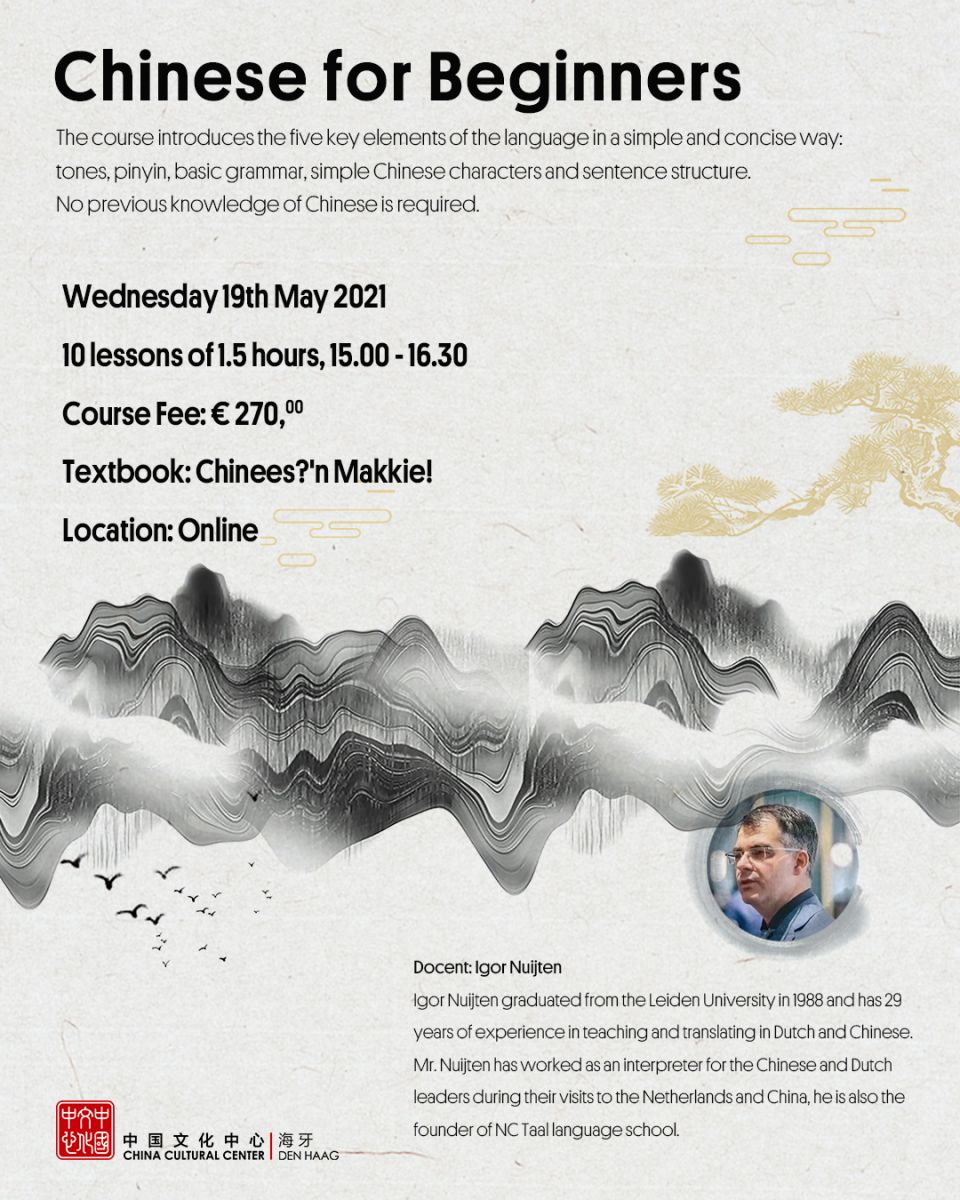 Course Introduction
This course will be taught by Igor Nuijten, an experienced language teacher and Dutch Chinese translator, who graduated from the Leiden University in 1988 and has 29 years of experience in teaching and translating in Dutch and Chinese. Mr. Nuijten has worked as an interpreter for the Chinese and Dutch leaders during their visits to the Netherlands and China, he is also the founder of NC Taal language school.
This course is aimed at adult students who are interested in getting to know the Chinese language, no previous knowledge of Chinese is required. The course introduces the five key elements of the language in a simple and concise way: tones, pinyin, basic grammar, simple Chinese characters and sentence structure. This course will give beginners an overview of the Chinese language and provide a foundation for further study.
This will be an online course; the maximum number of students is 10.
Course Timetable and Fees
10 lessons of 1,5 hours each (lesson 1 to 9)
Duration: Wednesdays 15.00-16.30 pm
19.05.2021 to 21.07.2021*
Course fee: €270
* In case of special circumstances when the teacher is unable to attend the course, a make-up lesson will be agreed with the student.
Course Materials
Chinees?'n Makkie!
Donner: € 39,95
https://www.donner.nl/chinees-n-makkie-deel-1/tin-chau-tsui/9789046906439
The cost of the course materials is not included in the tuition fee.
Contact information and payment options
Igor Nuijten
Marco Polo Vertaal- & Adviesbureau China/NCTaal
Milanenhorst 92
2317 CH Leiden
0626-986926
Bank:
Marco Polo Vertaal- & Adviesbureau China
IBAN: NL79 INGB 0005 0667 51