The 8th Embassy Festival (2020, The Hague) was officially launched on 4-5th September 2020. Due to the epidemic, this year's festival was held online for the first time. As an important platform to showcase national culture varieties, more than 30 countries participated this year. China Cultural Center (CCC) in The Hague produced videos with distinctive Chinese characteristics, presenting a unique Chinese cultural feast for local people in the Netherlands and online audiences worldwide.
The Guzheng (Chinese zither) piece "Qing Ping: Spring Day of The Forbidden Court" was adapted from an ancient poem by Li Bai, a well-known poet in China's Tang Dynasty. The performer, Meng Zijing, dressed in traditional Chinese costume, sang along with the melodious sound of Guzheng, bringing the Dutch audience a unique performance full of oriental charm.
The folk dance "Chinese Flowers by the Pathway" was performed by Xiang Yujie, a young dancer living in the Netherlands. Dressed in a bright and elegant Chinese costume, the dancer performed in Het Park in Rotterdam, with Euromast as the background, she presented a dialogue between eastern tradition and western modernity.
Two Chinese dishes are presented by the chef of The Hague's Chinese restaurant, Hot King, and the video details the prep work of making the dishes. Chinese food culture is very popular among the Dutch public, and Kung Pao Chicken, arguably one of the most famous Chinese dishes in the Netherlands, and perhaps even throughout Europe, is widely popular. Boiled Sichuan Fish with pickled cabbage is also becoming increasingly famous in the Netherlands with the growing number of Sichuan restaurants in recent years.
The Chinese Taiji performances by Dutch students, led by Mr. Fei Yuliang, have been the most popular "reserved programs" of the Embassy Festival in recent years. This year was no exception. China Cultural Center in The Hague (CCC), in cooperation with Dutch Health Qigong Association (DHQA), launched a short video to promote the Chinese Taiji and martial arts culture. Master Fei gave a solo demonstration of his unique Fei-style Taiji first and led his Dutch students practice Taiji steps. Taiji, based on the traditional Chinese concepts of yin and yang, is a combination of martial arts and art, and has gained more and more attention and popularity among the local Dutch people in recent years.
In continuation of the online demonstration during the Embassy Festival, on the afternoon of 5th September, CCC and Dutch Health Qigong Association jointly organized a Tai Chi workshop, bringing the Dutch public to experience the fun and charm of Tai Chi at the comfort of their homes during the epidemic.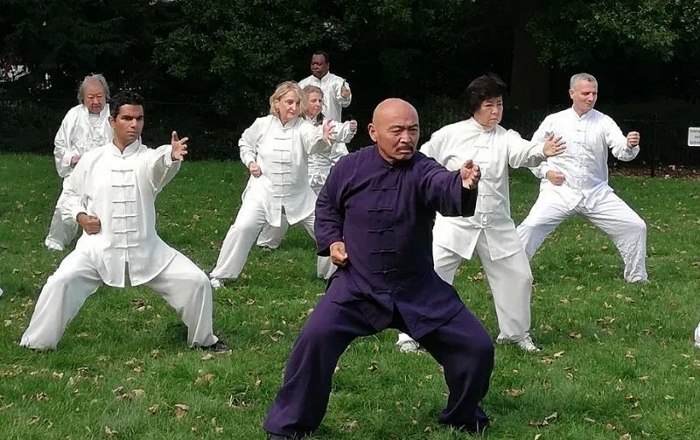 On-site Taiji Workshop on 5th Sep
On 12th September, the coming Saturday, CCC will also continue to co-organize an online event "World Health Qigong Day" with Dutch Health Qigong Association to promote Tai Chi online courses in the future.